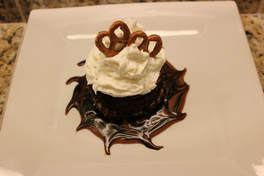 Danny's Brownie Obsession
by Bobbie Jo
Wasilko
He Hunts She Cooks
Danny is obsessed with brownies, but I don't always have time to make them from scratch, so here is a semi-homemade version.
Brownies
2 Boxes Betty Crocker Fudge Brownie Mix
4 Eggs
1 cup Vegetable Oil
1/2 cup Water
1/2 cup King Arthur Flour brand Black Cocoa (optional)
Pretzel Base
3 cups Mini Pretzels, crushed (Reserve some whole for plating)
3/4 cup Light Brown Sugar
3/4 cup Butter, melted
3/4 cup All Purpose Flour
1 tsp. Baking Soda
Caramel Topping for Brownies
1 can Nestle La Lechera Dulce De Leche (caramel)
5 tbs. Heavy Cream
Additional Items
A second can of Nestle La Lechera Dulce De Leche (caramel)
5 additional tablespoons of heavy cream
1 can Redi-Whip
1/4 cup Hershey's Special Dark Chocolate Syrup
1 Wooden Skewer
*Ice Cream, if desired
Instructions
Pre-heat the oven to 350 degrees.
For the Pretzel Base
Crush pretzels in a zip lock bag
Pour the pretzels into a bowl and add the brown sugar, flour, baking soda and mix
Add the melted butter over the dry ingredients and mix
Pour the pretzel base into a large cake pan which has been lined with parchment paper, or greased
Bake the pretzel crust for about 10 minutes then remove the pan and set aside.
For the Brownie Batter
Make the brownies according to the box instructions and add the black cocoa to the brownie mix if using
Pour the brownie batter over the pre-baked pretzel crust.
For the Caramel Topping
Add the can of caramel to a microwave safe cup along with 5 tbs. heavy cream and heat for about 30 seconds
Stir the caramel and cream until the caramel is melted and loose
Pour the caramel over the brownie batter and swirl lightly with a butter knife to marbleize (do not over mix)
Place the brownies in the oven and bake 30-45 minutes (2 boxes took 45 minutes total)
Remove the brownies from the oven and cool completely, about 3 hours.
To Plate the Brownies
Grab the parchment paper and lift out the brownies, if using, otherwise leave the brownies in the pan
Use a 4 inch metal ring mould to cut out round brownie shape ( you may omit this step and just cut out a square) and set aside
Heat the second can of dulce de leche (caramel) and add 5 tbs. heavy cream and heat for about 30 seconds to loosen the caramel
Spoon a small circle of warm caramel in the center of a plate (about 4 tablespoons full)
Use the back of the spoon in the caramel to make the circle a bit larger
Place a large dot of Hershey's syrup in the center of the caramel, and make 3 rings with syrup around the caramel, working from the inside to the outside
Use the blunt end of a wooden skewer to make small circles going around the caramel and chocolate syrup to make a marble effect in the sauces
Top the swirled sauces with the brownie
Top the brownie with Redi Whip and two miniature pretzels
Serve with ice cream if desired