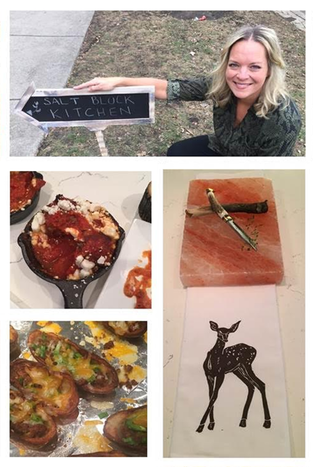 Jayme O'Connell lives in Chicago and is the founder of Salt Block Kitchen. She organizes "Cooking for Causes" events for small groups. Jayme said, "The mission of Salt Block Kitchen's is to help people connect with their food, and support the sustainable food ecosystem. We were thrilled to be able to raise money to support Farmers and Hunters Feeding the Hungry. This represents the best of community, education, conservation, and giving back. It was a wonderful way to start the year."

On January 2 Jayme held Salt Block Kitchen's "Cooking for Causes" workshop and hosted six guests. They enjoyed venison meatballs in homemade tomato sauce, and then made venison stuffed potato skins, pulled venison sliders, and finished with mini venison "croque madames" topped with quail eggs!

Workshop guests met new friends, learned about ethical deer hunting, and contributed $590 to Farmers and Hunters Feeding the Hungry. Salt Block Kitchen is grateful for their generosity and thrilled to start the year off strong!

FHFH thanks Jayme and the cooking workshop guests for supporting our mission to end hunger!