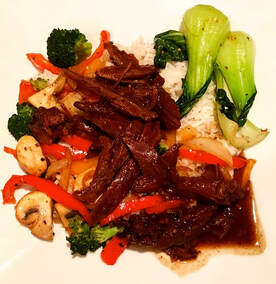 Chinese Red Stock Braised Venison Shanks
by Bobbie Jo Wasilko
He Hunts She Cooks
​
Prep Time: 30 min
Cook Time: 5 hr
​
​Serves 6
Traditionally used for braised duck legs or pork belly, the red cooking broth imparts a distinctively Chinese flavor to these venison shanks. This "red cooking stock" has several Chinese spices, as well as a touch of rock sugar and sherry to create a salty-sweet-spicy braising liquid for slow braised venison shanks. Make a double batch of the red cooking stock and freeze half to use for whatever tough cut you want to give a low, slow braise.
For the Red Stock
8 cups Chicken Stock
1-1/4 cups Low Sodium Soy Sauce
1 cup Shaoxing Cooking Wine
1/2 cup Dry Sherry
3/4 cup Chinese Rock Sugar (substitute light brown sugar)
3 Tbs. Chinese Five Spice Powder
1 Tbs. Whole Black Peppercorns
1 Tbs. Whole Sichuan Peppercorns
1 Tbs. Korean Ground Red Pepper (Gochugaru)
1 Tbs. Onion Powder
2 bunches Scallions green and white parts (cut into 2 inch pieces)
1 Two Inch Piece of Fresh Ginger Root (cut in 4 pieces)
10 Cloves Garlic (Peeled, smashed)
2 Naval Oranges (quartered and with the rind on)
For the Venison Shanks (or 5 pound any tough cuts)
4-6 Whole Bone-In Venison Shanks
1 Large Onion
1 Tbs. Chinese Five Spice Powder
Fresh Ground Black Pepper
Kosher Salt
Peanut Oil for Frying
To Finish
3 Tbs. Corn Starch
3 Tbs. Water
For the Chinese Red Stock
In a large stock pot, add all the stock ingredients and bring to a boil, then reduce the heat and simmer for 15 minutes.
Cool until ready to use.
For the Venison Shanks
Bring shanks to room temperature one hour before cooking.
Preheat the oven to 300ºF.
Season Shanks with a little kosher salt, black pepper and Chinese Five Spice.
Sear the shanks in a large frying pan with a bit of peanut oil, until browned on all sides.
Chop the onion and sauté in the same pan for 4 minutes.
Place the shanks and onions in a large roasting pan and pour the red cooking stock over the shanks.
Cover the pan and place in the oven for 4-5 hours util tender.
When finished, remove the shanks and set aside.
Strain the sauce and discard all the solids.
Pour the braising liquid into a pot and heat until boiling.
Make a slurry with 3 tablespoons corn starch, and 3 tablespoons cold water.
Pour the slurry into the braising liquid to thicken a little (*Don't make it too thick, this is a sauce, not gravy).
Serve the shanks whole, or pull the meat off the bones.
Serve with rice and stir fried vegetables.
Notes
Use the braising liquid to pour over coconut milk jasmine rice and stir fried vegetables. YUMM!