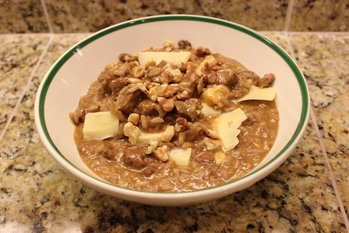 Canned Venison with Smoked Gouda and Toasted Walnuts
​by Bobbie Jo
Wasilko
He Hunts She Cooks
Creamy delicious risotto is made even better with canned venison. I encourage you to make it your own, by changing the type of canned meat, cheese, vegetables, toppings, even the wine. Experiment!
Serves 4
Prep Time: 20 min
Cook Time: 20 min
Total Time: 40 min
Ingredients
1 quart jar Canned Venison, drained (substitute elk, cairbou, boar, antelope)
6-7 cups Beef Stock, heated to boiling, kept hot
1-1/2 cups Carnaroli Risotto Rice (or Arborio)
1/2 cup minced onion (or 2 minced shallots)
1 cup red wine Pinot Noir Red Wine (open a bottle for risotto and drink the rest with dinner!)
1/4 cup Grape Seed Oil
3/4 cup Smoked Gouda, cut into pieces
1/3 cup Walnuts (toasted)
2 Tbs. Butter
Fresh Ground Pepper and Sea Salt to taste
Instructions
Heat stock to boiling, then turn down to low simmer.
Add grape seed oil to a large, heavy bottom wide top pot.
Chop onion or shallot and add to the pot.
Saute the the onion on medium heat for 2 minutes.
Add the risotto rice and sauté until the rice turns opaque, about 2 minutes.
Pour in the red wine, and stir until it's almost evaporated.
*This is when I set my timer for 15 minutes, and start adding stock, a 1/2 cup at a time and STIR, STIR, STIR.
Keep stirring after each addition of stock until it's almost evaporated and then add another 1/2 cup.
You want to adjust the heat to create a low boil so the starches release from the rice.
It's the release of starch that makes it creamy.
When the 15 minute timer goes off, check the rice, you want it "al dente" (depending on elevation, the risotto may need additional time and/or broth.
Once the rice is creamy, add the canned venison, gouda and 2 tablespoons butter and set the timer for 3 minutes, to warm the venison and cheese through the risotto.
Once the timer goes off after 3 minutes, turn off the pot.
Check for seasoning, spoon into a bowl and top with walnuts.
Serve.
Tips for the perfect risotto
Make sure the broth is boiling hot!! If the stock is cold, the starch will not release from the rice properly.
Constant stirring is crucial so be ready to stand at the stove for this one.
Elevation does make a difference in cooking time, so I'd suggest making the risotto on a day when you have time to experiment and take notes. Once you get past the learning curve, you'll be an expert at risotto in no time.
There are different risotto rices available, and I prefer carnaroli rice, but you may substitute arborio since it's more widely available.
Risotto should have the consistency of a soup/stew. Meaning, you should be able to eat it with a spoon.