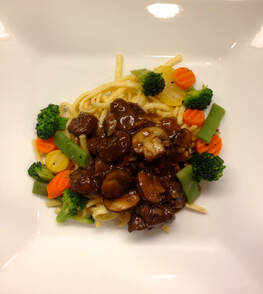 Canned Venison with Baby Bella Mushroom Venison Gravy
by Bobbie Jo Wasilko
He Hunts She Cooks
Serves 4
I was really short on time so I decided to forgo a lengthy recipe. And instead, I grabbed a jar of canned venison. Before adding the venison, I made a quick pan gravy with mushrooms, shallots, and canned venison stock. It was so yummy… and quick!! To make the pan gravy, I'm going to use the "singering" method. It's what is used in Southern cooking. It's so easy and no lumps!!!​
Ingredients
1 quart jar Canned Venison
8 ounce baby bella mushrooms, sliced
2 Shallots, minced (substitute 1/2 onion)
2 cups Venison Stock (substitute beef stock)
3 Tbs. Butter
3 Tbs. Grape Seed Oil (substitute canola oil)
2 Tbs. Cornstarch
1 Tbs. Garlic Powder
1 Tbs. Onion Powder
1/2 tsp. Kosher Salt
1/2 tsp. Pepper
Instructions
Heat oil and butter in a large frying pan over medium-high heat.
Add the shallot (or onion) and sauté 1 minute.
Add the mushrooms and sauté 1 minute (don't add salt yet).
Add the garlic powder, and onion powder, pepper, and now add salt.
Sauté another minute.
Turn down heat to medium and sprinkle the cornstarch over the mushrooms, and stir to coat the mushrooms.
Continue to stir while adding the stock.
Bring the heat back to medium-high and stir while the gravy thickens.
Add the canned venison, including liquid from the jar.
Heat through and serve with sides of your choice.