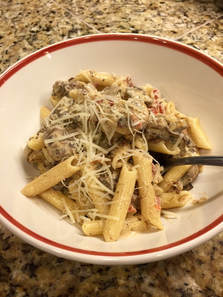 BBQ Canned Venison Pasta with Smoked Red Pepper Cream
by Bobbie Jo
Wasilko
He Hunts She Cooks
​
Serves 4
​
BBQ canned venison makes quick work for a creamy, spicy, venison pasta dinner. For the BBQ venison recipe, see my previous blog post for BBQ Canned Venison. http://hehuntsshecooks.com/canning-game-meat/.
Ingredients
**1 quart jar BBQ Canned Venison
2 tbs. Bobbie's BBQ Rub (or substitute your favorite cajun spice rub)
Pinch of Cayenne Pepper
1 package Cream Cheese
12 oz. Penne Pasta
5 Red Bell Peppers
2 Shallots, minced
2 Spring Onions, cut into small rings, white and green parts
3/4 cup Heavy Cream
3/4 cup Parmesan Cheese, divided
2 Tbs. Butter
2 Tbs. Grape Seed Oil (substitute canola, or vegetable oil)
Instructions
Smoke whole bell peppers for 1 hour in a smoker Or place peppers on a foil lined sheet and place in a 450 degree oven until the skins are charred (smoking is preferred, but do what you can).
Then place the peppers in a paper bag until cool enough to handle (the steam created will help loosen the peels).
Peel the skins, remove the stems and seeds and discard, and chop the peppers very finely, and set aside.
While the peppers are smoking, prep the other ingredients.
Mince the shallot, and set aside.
Cut the spring onions into small rings and set aside.
Boil the pasta in salted water and set aside.
To a large sauté pan, heat 2 tablespoons butter and 2 tablespoons oil over medium heat.
Add the shallot and sauté for 1 minute.
Then add the chopped red peppers and sauté 1 minute.
Add the cream cheese, heavy cream, bbq rub, cayenne pepper and half the parmesan cheese, and stir while the cream cheese melts.
Drain the venison (discard the liquid, if you like) and add the venison to the red pepper cream sauce.
Heat until bubbling.
Add the spring onions.
Serve the sauce over the pasta, and top with the remaining parmesan cheese.
Notes
**See BBQ Canned Venison for recipe: http://hehuntsshecooks.com/canning-game-meat/