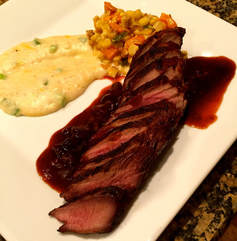 Cocoa Chile Spice Rubbed Antelope and Whitetail Venison Eye of Rounds with a Raisin Demi-Glace, Smoked Corn Sauce and Cheddar Mashed Potatoes
​
By Bobbie Jo Wasilko
HeHuntsSheCooks.com
Serves 2
​
A simple dry rub with black cocoa and chile powder coat Antelope or Venison eye of rounds, and after a quick grill, served with a jalapeño raisin demi-glace, smoked corn sauce and yummy tangy cheddar mashed potatoes. The demi-glace, and smoked corn sauce can be made the day ahead, and just reheated while the meat is grilled.
For the Eye of Round Spice Rub
4 Venison or Antelope Eye of Rounds (or loin, or backstrap)
1/2 cup Brown Sugar
1 tbs. Whole Coriander Seed
1 tbs. Black Peppercorns
3/4 tsp. Cumin Seed
1 dried Peruvian Puya Chile Pepper
1 Tbs. Kosher Salt
1 tsp. Garlic Powder
1 Tbs. Black Cocoa (King Arthur brand)
1/2 tsp. California Molido Chile Powder
2 Tbs. Wattleseed Extract (or substitute a coffee/chocolate liqueur like Fangelico or Tia Maria)
For the Raisin Demi-Glace
1 cup high quality Venison Stock (or beef stock, I use More Than Gourmet brand)
3/4 cup Ruby Port
1 Shallot, peeled and minced
2 Garlic Cloves, minced
3 tbs. Jalapeño Pepper Jelly
1/4 cup Black Seedless Raisins
3 sprigs Fresh Thyme Leaves (stripped from the stems)
1 Bay Leaf
1/2 tsp. Black Pepper
Grape Seed Oil (or vegetable oil)
For the Smoked Corn Sauce
1 bag frozen petit white corn ( or 3 ears fresh corn)
1 red or orange bell pepper
1 jalapeño
1 small Onion, peel on
1/2 cup Heavy Cream
Kosher Salt and Pepper to taste
For the Cheddar Mashed Potatoes
3-4 medium Russet Potatoes
1 stick Butter
2 heaping tablespoons minced Garlic (about 6 cloves)
1/2 cup Heavy Cream (may need a little more)
1/2 cup Shredded Cheddar
1/3 cup Sour Cream
3 Scallions, white and green parts, cut into small rings
For the Cocoa Chile Spice Rub
Toast the coriander seed, peppercorns, cumin seed, and dried puya chile pepper in a small pan over medium high heat, until smoking and the coriander starts to pop, about 3-4 minutes.
Add the toasted spices to a spice grinder, and grind until the spices are finely ground, pour into a bowl.
Add the brown sugar, kosher salt, garlic powder, black cocoa and molido chile powder to the bowl with the ground toasted spices and mix.
Add the eye of rounds to a zip lock bag and coat the meat with the 3-4 tablespoons of the spice rub (you won't use all the rub, save for another time).
Add the wattle seed extract and seal the bag and refrigerate 8 hours, or overnight.
Bring the meat to room temperature, by leaving it on the counter 1 hour before cooking.
Grill for 3-5 minutes until no more than medium-rare and serve with sauce.
For the Raisin Demi-Glace
Peel and mince the shallot and garlic and set aside.
To a medium sauce pot, add a little grape seed oil, minced shallot and garlic, and sauté over low heat, about 3 minutes.
Add the stock, port, black pepper, fresh thyme, and bay leaf.
Simmer, uncovered over medium heat until reduced by half (about 30 minutes).
Remove the bay leaf and discard.
Add the pepper jelly, and raisins and continue to reduce a bit more.
Serve with grilled eye of rounds.
For the Smoked Corn Sauce
Prepare a smoker with mesquite chips.
Add the frozen corn, onion, bell pepper and jalapeño to a cast iron pan.
Place the pan in the smoker, and add enough chips to get some good smoke going.
Continue to smoke the vegetables for 45 minutes adding mesquite chips every 15 minutes.
Remove and mince the jalapeño, peel and dice the onion, and bell pepper, and add all along with the corn to a small pot.
Add the heavy cream, and season to taste with salt and pepper.
Heat through, and serve with venison.
For the Cheddar Mashed Potatoes
In a large coffee mug (or glass measuring cup), first add the stick of butter, then the minced garlic, and then pour in enough heavy cream to reach the top of the mug.
Place the mug in the microwave and heat for about 30-45 seconds to warm the butter and cream, so the garlic begins to steep, while the potatoes are cooked.
Peel, and cube the potatoes and add to a large pot of salted water.
Boil the potatoes until tender when pierced with a fork.
Drain and add to a bowl, and pour over the warm butter and cream mixture.
Mash, season with salt and pepper.
While the potatoes are still hot, add the cheddar, sour cream and scallions, stir.
Serve with venison, and sauce.
Notes
The raisin demi-glace, and corn can be made the day ahead, and reheated just before serving.
The meat is best coated with the dry rub and refrigerated overnight.