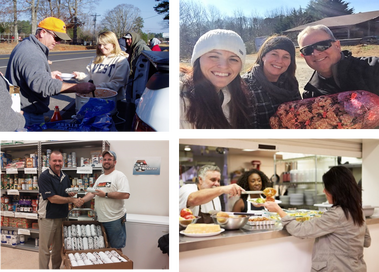 Have you ever experienced a time of hardship and someone helped you? Do you remember how it made you feel? Were you grateful? Did it give you hope? Did you feel like you mattered knowing that someone cared about you?
When people are going through hardships and somebody gives them a hand it makes a positive difference in their life and outlook. Helping others not only aids the person in need, but it makes our communities better – now and in the future. And there can be a ripple effect from the act of kindness because one day the person who was helped may pay it forward by helping someone else in need because they know what it's like to have someone care and help them.
Last year was hard for a lot of people. The heartache of loved ones passing away, the loss of a job or reduced hours that resulted in difficult decisions such as which bills to pay and struggling to put food on the table. The COVID pandemic is not over yet and we all are looking forward to better days ahead. When people remark what we need most in 2021 it's often: the end of COVID, employment opportunities and financial recovery. We also need compassion, kindness and sharing.
With so many individuals and families turning to food banks, food pantries and feeding ministries for food, these organizations are in greater need than ever. FHFH provides meat to these organizations at no cost.
We can be there for our neighbors in need – both now and in the future – because we have amazing supporters and volunteers! Donations of deer, livestock or a financial gift make the difference between someone going hungry or having a meal. Please join with FHFH today and be a beacon of hope to your struggling neighbors.
On behalf of FHFH and the people who are struggling with hunger, we thank you for your generous support as we work together to end hunger in our country. May 2021 be filled with an abundance of compassion, kindness and joyful giving!
Sincerely,

​Josh Wilson
Executive Director