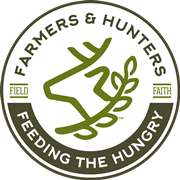 Your generous gift today will provide fresh, high-quality meat for needy families in your community who are struggling with hunger. Their need for food is critical now—and will grow even greater in the cold months ahead! Please give your best gift today. Hunger is often closer than we think.
​
Current statistics tell us that one in every eight people in America is experiencing real hunger today and will go to bed hungry tonight …
This holiday season be the neighbor who makes a difference.
​
Please give generously today!
Farmers & Hunters Feeding the Hungry (FHFH) is a 501(c)(3) nonprofit organization (EIN: 52-2151919). Contributions to FHFH are tax deductible as allowed by law. FHFH has complete discretion and control over the use of donated funds. Certain states require written disclosures for nonprofit organizations soliciting contributions. Individual state disclosures are here.